Our longest full-service client, the nonprofit Archaeological Institute of America (AIA) is North America's oldest and largest organization devoted to supporting archaeology worldwide. The AIA has been with Castle Builder Design since 1997, when CBD founder and lead designer Amélie Walker-Yung was webmaster of Archaeology, its popular print magazine. Today we design, develop and maintain all AIA websites.
Castle Builder Design took over management of Archaeological.org in 2006. In 2010, tasked with updating the website to bring it into the modern age yet still reflect the AIA's 130-year-old history, we completely redesigned and rebuilt it, converting an old system to the content management system Drupal. This A-to-Z overhaul included the conversion of hundreds of pages of existing content.
The new back-end system allows for better site organization, easy updates, job and event-listing management, fellowship application submission and review, an online store, and password-protected areas for staff, society officers and board members.
At the end of the project, we spent a day training the staff on-site in Boston. Castle Builder continues to work daily with AIA staff members to maintain the website and to develop new features such as the online scavenger hunt puzzles we created to mark International Archaeology Day.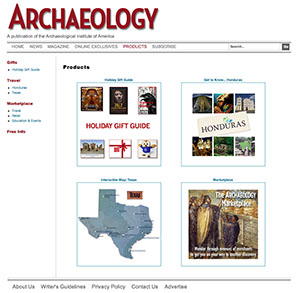 Castle Builder Design provides ongoing development and web design support to ARCHAEOLOGY magazine and recently converted the site to a responsive, mobile-friendly design.
We work closely with ARCHAEOLOGY's advertising department on web ad placement, advertiser emails and special advertising sections such as the Interactive Maps (Mérida, 2016; Norway, 2015; and Texas, 2011). Castle Builder manages and tracks online ads, e-blasts, and website traffic for Archaeology.org, providing monthly and on-demand reports.
Castle Builder also maintains the magazine's online Archive and the popular Interactive Dig site and designs and distributes the monthly Archaeology e-Update to more than 50,000 subscribers.
The American Journal of Archaeology is the academic/professional journal of the AIA. Castle Builder Design began managing the AJA website in 2007. We converted it to Drupal in 2011, then trained the electronic content editor how to use Drupal.